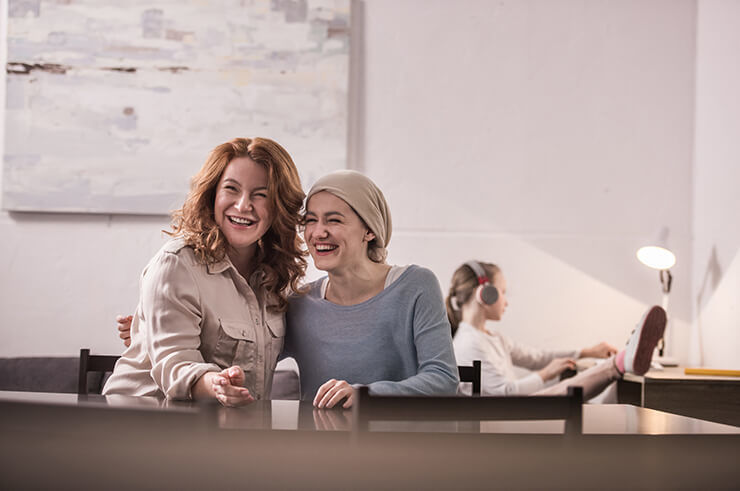 At Hunter Valley Oncology, we understand that a cancer diagnosis can be a confronting and life-changing discovery for both you and those around you. That's why we strive to provide support and care throughout your entire course of treatment.
Your first appointment can be frightening, but it's a crucial step towards the treatment and management of your cancer. Below are some answers to common questions held by people attending their first oncology appointment.
How should I prepare for my appointment?
Our goal is to make sure you leave your first appointment informed and confident in your treatment plan, so we suggest writing down a list of any related questions you may have concerning your treatment and bringing it to your appointment. We also suggest bringing a notepad and pen with you: you may want to add more questions to your list during your appointment. This helps ensure that all your questions are answered during your visit.
What should I bring to my appointment?
For your first appointment, please bring a list of your current medications (including vitamins and herbal remedies) and the hard copy of any relevant imaging if available, as well as your prepared list of questions (if you have any) and something to take notes with. Consider also bringing along a family member or trusted friend, as an extra set of ears can be helpful in processing and remembering the important information.
For any subsequent appointments, you will be advised by your doctor if there is any preparation required or additional items to be brought with you.
Where do I park?
Dr Paterson works from three locations during the week: Newcastle Private Hospital, The Breast and Endocrine Centre, and Maitland Private Hospital's Oncology Unit.
General and disabled parking is available to the rear of The Breast and Endocrine Centre, as well as limited surrounding street parking. Newcastle Private Hospital has dedicated oncology parking, for those undergoing treatment, as well as drop off parking, 10-minute parking, and undercover parking attached to the Kingston building. Maitland Private Hospital has pay and display parking onsite, although it can be difficult to find a park during peak periods. All three facilities are wheelchair accessible.
What happens at my first appointment?
We begin your consultation appointment with a complete medical review of your condition so far and an assessment of your other medical history. Your family history of cancer and related conditions is also assessed to determine the likelihood of an inherited cause for your cancer. The doctor will then determine which type of treatment is likely to work best in your individual case.
At this point, you may wish to discuss treatment options with Dr Paterson with regard to your unique situation and prognosis. If you would like to do your own research on a method of treatment before agreeing to it, a second consultation appointment can be scheduled. You will not be rushed to make a treatment decision on the day if you do not feel able to.
Once a treatment plan has been agreed upon, arrangements are made to start it as soon as is practical. These arrangements will depend on your unique situation.
Can I drive home after the appointment?
While it's legal to drive home following your consultation appointment, some people do not feel confident in doing so due to the stress of the situation. If you believe that you may not feel confident in driving home, it may be best to invite a trusted friend or family member to your appointment to help you get home safely. If you would prefer to use public transport or are caught off guard, our friendly and caring staff are able to call a taxi for you.
What should I do before I start treatment?
Get a dental check – Chemotherapy and other medications can affect your immune system, so it's best to find and manage any potential oral infections beforehand.
Freeze some meals – you likely won't feel like cooking following your treatments. Pre-prepared meals are a great way to make sure nutritious food is readily available when you need it most.
Talk to your employer – cancer treatment varies from person to person, and it can be hard to predict how it will affect you specifically. Consider discussing the possibility of flexible work hours or taking leave.
Ask about fertility – some treatments can affect your ability to have children in the future. If this is something which concerns you, please talk to your doctor before you begin treatment.
Moving Forward
Hunter Valley Oncology services patients in the Hunter Valley area and surrounds. We understand that everyone is affected differently by cancer, which is why we provide support and guidance to our patients wherever we can.
For further questions concerning your treatment or to book an appointment, please contact us by calling our clinics or using our online contact form.