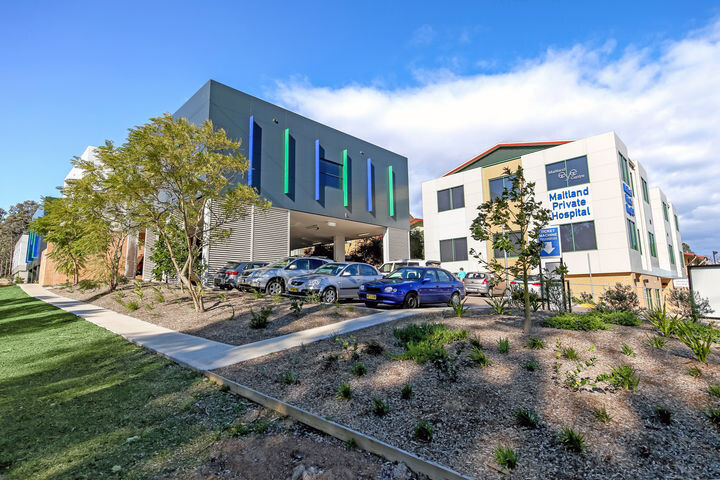 Maitland Integrated Cancer Services brings fully comprehensive cancer care to the Hunter Valley.
With a shared vision of providing rural communities with equal access to cancer care that rivals any metro city across the globe, our team at Hunter Valley Oncology is excited to partner with other industry leaders to form the Maitland Integrated Cancer Services, located on-site at Maitland Private Hospital. Maitland Integrated Cancer Services offers a fully integrated suite of cancer care services including day infusion services, radiation therapy provided by Icon Cancer Centre, pathology, imaging, an exceptional intensive care unit, surgery and overnight stays.

Radiation oncology now available in Maitland

The opening of the radiation oncology services from Icon Cancer Centre Maitland is a turning point for the region. For the first time ever, patients of the Hunter Valley will have access to radiation oncology services without having to travel to Newcastle for treatment, saving them more than 80 hours of travel time on average during the course of their radiation therapy treatment.
Services at the Icon Cancer Centre Maitland include:
The support of a dedicated and experienced team of doctors and medical staff
World-class technology and treatments for all tumour streams
Advanced radiation therapy techniques
No waitlist – consultation and treatment in a timely manner
Lymphoedema screening for breast cancer patients using a SOZO machine
Icon Maitland is committed to providing affordable care for all patients, with no private health insurance required for radiation therapy and up to 90% of costs covered by Medicare.
Radiation therapy techniques offered by Icon Cancer Centre Maitland
The radiation therapy techniques used at the Icon Cancer Centre Maitland will include:
The latest technology solutions from Varian, including the TrueBeam® linear accelerator and IDENTIFY™ system
Deep Inspiration Breath Hold (DIBH) – A techniques for left-sided breast cancer patients that reduces the potential of radiation on the heart
External beam radiation therapy (EBRT) – Uses one or more beams to deliver high energy x-rays to a cancerous tumour
Intensity modulated radiation therapy (IMRT) – Delivers high dose radiation to cancerous tumours, while limiting impact on healthy surrounding tissue
Image guided radiation therapy (IGRT) – Utilises the most advanced imaging equipment and computer software
Volumetric modulated arc therapy (VMAT) – Involves the use of external radiation therapy beams being directed in a series of arcs or angles to allow for greater access to a cancerous tumour
Stereotactic radiation therapy – An advanced technique used to treat small tumours with well-defined edges in the brain, spine or lung, including tumours that have spread from a primary cancer
Triggered imaging – A technique unique the TrueBeam linear accelerator, enabling visual verification that a tumour is being accurately and precisely targeted. It is specifically used for prostate cancers
Surface guided radiation therapy (SGRT) – Tattoo-less radiation therapy alternative that uses advanced camera technology to facilitate 3D tracking of the skin's surface during set-up treatment
HyperArc by Varian – Accurately targets multiple tumours while ensuring limited doses of radiation to surrounding healthy brain tissue
Leading cancer care in the Hunter Valley
Our services include the diagnosis and treatment of cancer, evidence-based advice, and personalised care for you and your family. We work with leading allied health, diagnostic, and oncology specialists to give you the holistic care you deserve.
If you have concerns about your cancer, require treatment and care, or simply want to know more about living with cancer, then please do not hesitate to contact the team at Hunter Valley Oncology.